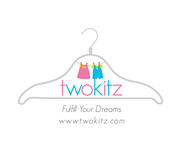 TwoKitz
Kids hold the key in building our future.

In that, we want to bring the most comfortable and swag fashionwear to the aged 0 - 8 years them!

Our quality designs come from all over the world, USA, Korea, Malaysia, Taiwan, Thailand and China.

We are extensively building our source of quality apparels and dresses to add on to our collections!

Taking pride in giving the best we can to our kids, we strive to constantly provide you with affordable and quality children apparels.
Venue: Singapore Expo Hall 5
11 - 12 Jan 2019 (11am-9pm) | 13 Jan 2019 (11am-8pm)