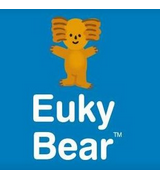 Euky Bearub
Keep your family healthy, naturally with Euky Bear.

For almost 40 years, Euky Bear has been offering natural, Aussie-owned health solutions parents trust.

Euky Bear's premium cough and cold range has a health solution to suit every family's needs.

Products include the Euky Bear Steam Vaporiser, an ultra-quiet vaporiser which is suitable for use with Under 2's. Euky Bear Inhalants, with natural essential oils.

The range also includes the quality Euky Bear Digital Thermometer, a Euky Bear Natural Cough Syrup suitable for children 2+ and Euky Bearub, a gentle eucalyptus chest rub which helps kids breathe better, and sleep more soundly throughout the night.
Venue: Singapore Expo Hall 5
11 - 12 Jan 2019 (11am-9pm) | 13 Jan 2019 (11am-8pm)