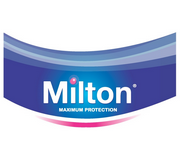 Milton
Milton Brand is promoted and distributed by Milton Pharmaceutical UK Company for all major supermarkets, pharmacies and baby retailers.

At Milton we aim to produce high quality products with the majority of Milton products being produced in the UK or France with the highest manufacturing standards.

All Milton products are clinically tested to guarantee the best efficacy for all babies and families which are safe to use for babies and protect them against germs.

Venue: Singapore Expo Hall 5
11 - 12 Jan 2019 (11am-9pm) | 13 Jan 2019 (11am-8pm)