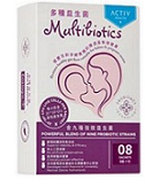 Activ Health Multibiotics
ActivHealth Multibiotics developed with the help of Maastricht University Medical Centre, Netherlands, harnesses nine probiotic strains to endow your insides with infection-fighting superpowers.

ActivHealth Multibiotics is a multipleprobiotic supplement that deploys the unique disease-fighting powers of nine different strains of probiotic bacteria.

ActivHealth Multibiotics also contains no calories or lactose, unlike cultured milk drinks, so it is suitable for people who are watching their calories, diabetic or lactose-intolerant.
Venue: Singapore Expo Hall 5
11 - 12 Jan 2019 (11am-9pm) | 13 Jan 2019 (11am-8pm)