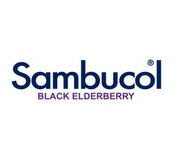 Sambucol
The work of a leading virologist brought Sambucol to the world.

Sambucol® with natural black elderberry is trusted by millions of people worldwide. It is the original black elderberry dietary supplement developed by a virologist and researched and tested in published clinical trials showing it to help support the immune system.

Sambucol® black elderberry extract is recommended by numerous nationally-recognized health experts, including Andrew Weil, M.D., in his popular book, Natural Health, Natural Medicine (Houghton Mifflin, 1995).

A potent antioxidant, black elderberries have been used to traditionally combat illness since ancient times and have twice the natural antioxidant capacity of blueberries and almost twice that of cranberries.
Venue: Singapore Expo Hall 5
11 - 12 Jan 2019 (11am-9pm) | 13 Jan 2019 (11am-8pm)