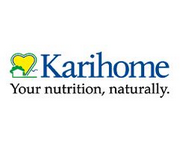 Karihome
Karihome" is a global brand, whose name was inspired by "Karitane", a local parenting service facility in New Zealand.
Karihome understands parents want the best for their babies, so since the establishment of Karihome in 1991, we have incorporated studies conducted by renowned medical and infant experts internationally to develop products most suitable for the constitution of infants and toddlers in the Asian-Pacific region, and we vow to keep the most stringent quality control.
Over the years, we have been importing goat and cow milk powder produced and packaged in New Zealand. Karihome products follow strict milk product processes and hygiene standards mandated by the New Zealand Ministry for Primary Industries. Karihome products are of the highest quality and meet infant and toddlers' nutritional needs.
Venue: Singapore Expo Hall 5
11 - 12 Jan 2019 (11am-9pm) | 13 Jan 2019 (11am-8pm)