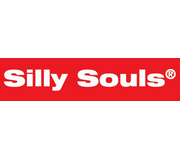 Silly Souls
Silly Souls was hatched in 2000 and launched in 2002.

Originally branded as babygags the brand evolved into Silly Souls in 2008.

The brand was the leader and the original irreverent funny line of apparel and accessories that introduced attitude tees, the color black, urban cool rock star styles and breast feeding jokes on bodysuits and baby basic accessories to the pink and blue baby retail world.
Venue: Singapore Expo Hall 5
11 - 12 Jan 2019 (11am-9pm) | 13 Jan 2019 (11am-8pm)