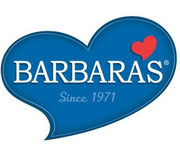 Barbara's
About barbara's! Cereals, Snacks N More Baby Food!

We believe food must be simple. virtually made and absolutely scrumptious!

In 1971, While Barbara started our company, the bay area changed into humming with young people full of a desire to express their love for absolutely everyone. The sector became changing each day as they created their very own paths and sought to turn others onto new course.

The bakery exceeded her wildest dream and grew from a storefront begin-up to a thriving wholesale business. On the grounds that those first loaves more than forty years in the past, our product presenting have grown to include cereals, snacks bars, cookies and cheese puffs.

Being "wholesome" is the healthful and nourishing end result of using high quality ingredients. That's Barbara's Way!
Venue: Singapore Expo Hall 5
11 - 12 Jan 2019 (11am-9pm) | 13 Jan 2019 (11am-8pm)