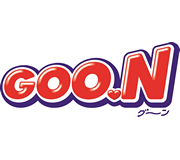 GOO.N
GOO.N diapers are manufactured by Daio Paper Corporation, one of the biggest Japanese paper product manufacturer.

In Japanese, Daio means King. And GOO.N is synonymous with supreme diapers.

Research shows that top concern for most mums about diapers is the ability to prevent diaper rash. GOO.N has undergone relentless R&D to create the best diapers to prevent diaper rash.

Three main factors to prevent diaper rash, Softness, Dryness and Breathability.

GOO.N is created with advance manufacturing processes to achieve highest quality on the above.

we believe in Quality. We have stringent selection criteria so consumers can rest assume that products brought in by us are of highest quality.
Venue: Singapore Expo Hall 5
11 - 12 Jan 2019 (11am-9pm) | 13 Jan 2019 (11am-8pm)