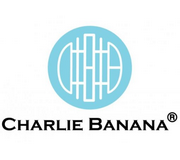 Charlie Banana
Charlie banana® is an International, luxury brand of modern cloth hybrid diapers and healthy baby products.

In 2012, Winc Designs Limited became nominated as an "Earth Ehampion" for waste reduction.

Charlie Banana range of cloth diapers and swim diapers is a brainchild of a hong kong based company Winc Design Limited, drawing inspiration from founder's daughter, Charlie.

Charlie banana® turned into created out of a love for eco-friendliness, first-class, and design.

We desired to design products that all people would feel assured using on themselves and on their babies, and they might recommend to their friends.
Venue: Singapore Expo Hall 5
11 - 12 Jan 2019 (11am-9pm) | 13 Jan 2019 (11am-8pm)