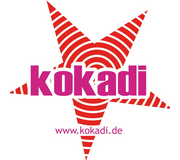 Kokadi
Kokadi is fashion straight from the heart. And ever so practical.

Kokadi wraps are made from high-quality organic cotton in a jacquard weave and a trendy design.

We offer our popular patterns in a variety of young and fresh color combinations, Red Stars, Orange Stars, Blue Stars, Gold Stars, and Blue Melody.

Kokadi baby wraps are a beautiful accessory in which your own "little star" will feel safe and comfortable.

And you will look great yourself, too, as you enjoy the flexibility offered by a kokadi wrap.
Venue: Singapore Expo Hall 5
11 - 12 Jan 2019 (11am-9pm) | 13 Jan 2019 (11am-8pm)