Cosatto Moova 2 Carseat (5 Point Plus Anti-Escape Harness) with Free Tummy pad and Chest pads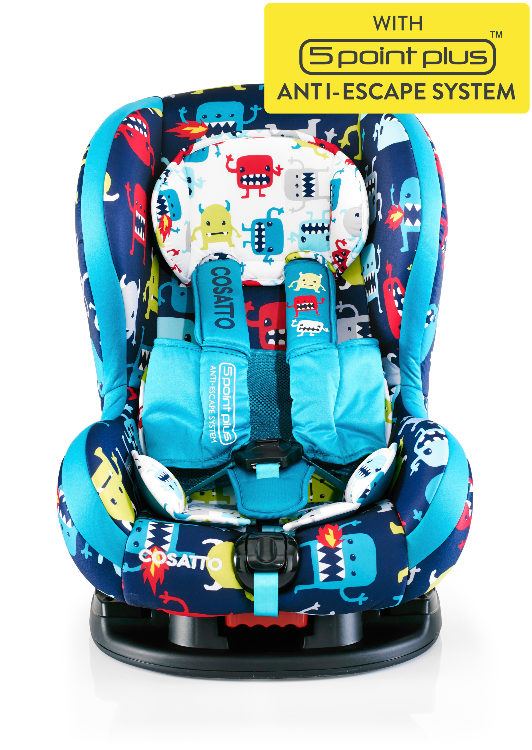 ********************************************
Early bird specials are valid only from 11am-1pm daily
For full list of early bird specials/coupons, download the
FREE
magazine here:
https://babyworldfair.com/free-magazine.html
********************************************
Suitable from 9kg to 18kg (up to 4 years old)!!
It's HERE!! Another Cosatto first!!
Car seat harnesses just got a whole new level of security with NEW ANTI ESCAPE SYSTEM!
Research shows that more than 70% of children wriggle out of their car seat harnesses, risking severe injury. That's unacceptable. Cosatto have built the solution.
The Brand New Cosatto Anti-Escape System has been built working alongside the makers of the original, award-winning '5 Point Plus' harness system.
In tests, 9 out of 10 children could not wriggle out of their Cosatto Anti-Escape System. That's a result.
The Cosatto Anti-Escape System! Safer child! Safer you! Safer roads!
Suitable from 9kg to 18kg (9 months to 4 years approx.)
Forward facing
Easy to install
One-handed 3-position recline
Higher sitting position to give a better view, helping to relieve travel sickness
Fits front and rear seats
Compatible with standard 3-point vehicle seat belts
5-point plus safety harness with quick-release buckle
Removable and washable covers
Comfy, reversible and easily removable seat liners
Unique deep waisted 'SnugFit' base for an even safer fit
FREE tummy pad & chest pads
Usual Price:
$399.00

Baby World:
$299.00 only!!

Grab it at Booth B09


SHORTLIST this product by clicking the "shortlist" button above and have your Compiled Wish list sent to you!
Cosatto Moova 2 Carseat (5 Point Plus Anti-Escape Harness) with Free Tummy pad and Chest pads

|

Baby World Fair

| Rating:

9

out of

10

|
Venue: Singapore Expo Hall 5
11 - 12 Jan 2019 (11am-9pm) | 13 Jan 2019 (11am-8pm)